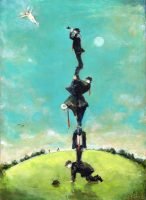 This gallery contains 11 photos.
Michael Hermesh's New Show – And So It Goes…
Opening on Thursday January 18, 2018
Artist Statement for Michael Hermesh's new show:
My art concerns itself with the point of interaction between spirit and the real world. That interaction I would call the definition of narrative. The intersection of awareness information and intent.

The dramas we act out, the battles we fight, and the esthetics we see are almost purely symbolic since the present reality is always the cumulative dramatics of a world that is much deeper and fraught with history than we could ever take into consideration.

My contention is that all art is narrative, and all narrative is myth – in the non-cynical sense.

Michael Hermesh
Angel Hunters of Panache,
Acrylic on Panel,
14.75 x 10.75 inches

The Bird Hunters,
Acrylic on Panel,
11.25 x 11.25 inches

The Flawed Totem,
Acrylic on Panel,
8.25 x 15.25 inches

The Hat Box Man – Snakes & Ladders Edition,
Acrylic on Panel,
5 x 14 inches

I Dreamt of Rescue,
Acrylic on Panel,
4.5 x 11 inches

There will also be 9 new brand new bronzes released at Michael Hermesh's New Show. They will all be the first in the edition. Stay tuned as new photos will be added as we receive them from the foundry.
Flight School for Existentialists
Mixed Media Bronze Edition 2 of 15
14 x 13.75 x 5 inches
Perfect Symmetry on a Cloudless Day
Bronze Edition of 2 of 15
17.5 x 6.5 x 6 Inches plus balloon
Mocking Bird in an Orange Bush (Large)
20.5 x 28.5 x 49 inches
Bronze Edition 4 of 12